Dressing Room Shenanigans After Ditching the Party
December 31, 2011
This was fun! I'm going to have to go on more dressing room shenanigans and bring my camera! My daughter Idelle and I had quite the day – she *thought* there was a birthday party at 1 pm today in a semi-nearby town (Chico.) I was planning to take her, but I woke up feeling QUITE sick, and really hoped that she could get ahold of a friend and catch a ride. Well, she tried and tried, but people just do not EVER answer or return calls on their cell phones *sigh*. So, as it got closer and closer to the time, I started trying to get ready, even while my body kept telling me, "NO WAY!"
What happened was as follows: I took way too long getting ready, continuing to hope that someone might come through and pick Idelle up. Plus, I just didn't feel well at all and was in no mood to hustle. We left pretty late, and unfortunately we still had to make a stop to grab a gift. Then, on the way over to Chico, Idelle informed me that she'd only heard about this party through a mutual friend of the girl who was having a birthday. She'd never received an invitation, or any clear cut information about this *party*. Argh!  Anyhow, we continued on, the clock ticking away relentlessly and reminding us of our lateness. When Chico was reached, I took a wrong turn, thinking it would be a quick way to get to the party location (Cal Skate – a roller rink.) It turns out I messed up, and made a huge loop that was unnecessary, which of course ate up many more minutes.
When we FINALLY arrived at the skating rink, no one was to be seen, and I'd become very skeptical about there even being a party. I mean, why wouldn't this child's mom verify it with me if she really wanted us to come? I am getting a little bit tired of parents letting their kids take care of all the inviting/planning when it comes to hanging out, parties, etc.  It seems to be the trend lately.  Idelle heard from a friend of a friend, and was instructed to tell another friend. But, neither of them actually heard from the birthday girl herself? 
So, Idelle and I went into the building, and there was a large group ahead of us dilly-dallying away. Idelle and I were both flustered and frustrated, and unsure if any of her friends were really in there. It looked like we'd have to pay to go in, just to look and see if we could find them. Then, because of our late arrival, there'd only be about an hour and a half to skate. Needless to say, when Idelle said, "Let's just skip it," I gladly complied. We decided to have a little fun, just the two of us, instead. Since we'd already made the monumental effort and got ourselves over to the land of Chico, we decided that we might as well make the best of it.
We considered checking to see if any good movies were playing, but ended up at the mall (we both agreed on this, as we each had a little cash on hand, and the mall was close by. What else would you expect from a couple of gals loose on the town? *wink*)
I brought my camera in, in my purse, hoping to take some fun shots in the dressing rooms, since I knew we couldn't afford to buy much. Idelle took the ones of me, and I took the one of her (she's wearing that jacket very reluctantly, as she didn't like it – I picked it out and coaxed her to try it on, lol..gone are the days when I can dress her in my taste!)   We didn't take very many shots, as Idelle was not as into it as I was, and she has no patience for Forever 21, where these were taken.  She wanted to leave pretty much the whole time we were there, ha ha. 
Anyhow, I'm a sucker for medieval inspired stuff, and this navy top struck me as such.  It was very floaty and comfortable on me, and if money were no object, I'd have brought it home. But, alas, it ended up back on the rack.  (I still kinda want to go back and get it, shhhhhhhhhh!)  It'd be great for occasions that are not overly dressy, (with jeans) but where you still want to look a bit nice, and it could easily be dressed up to be more formal as well.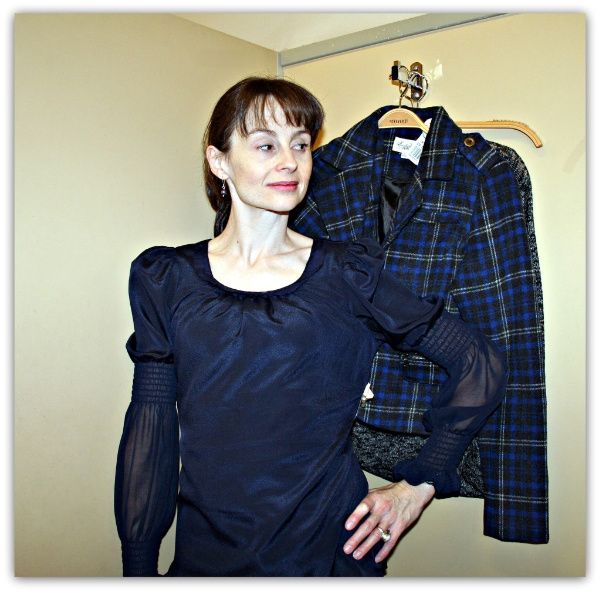 aren't the sleeves cute?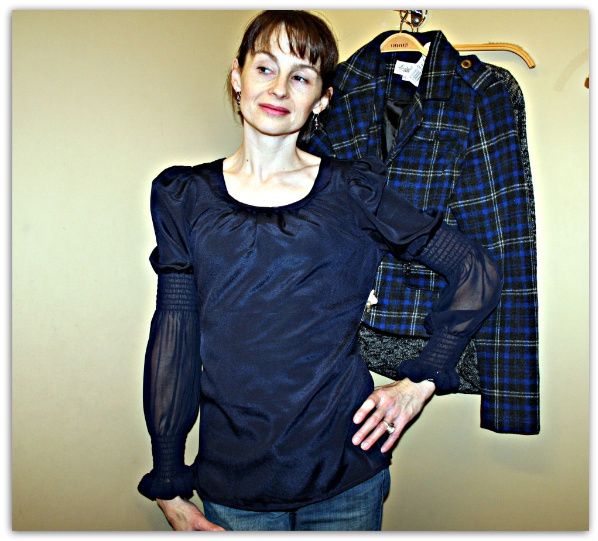 Idelle, ever so reluctantly, wearing the darling plaid jacket I picked out..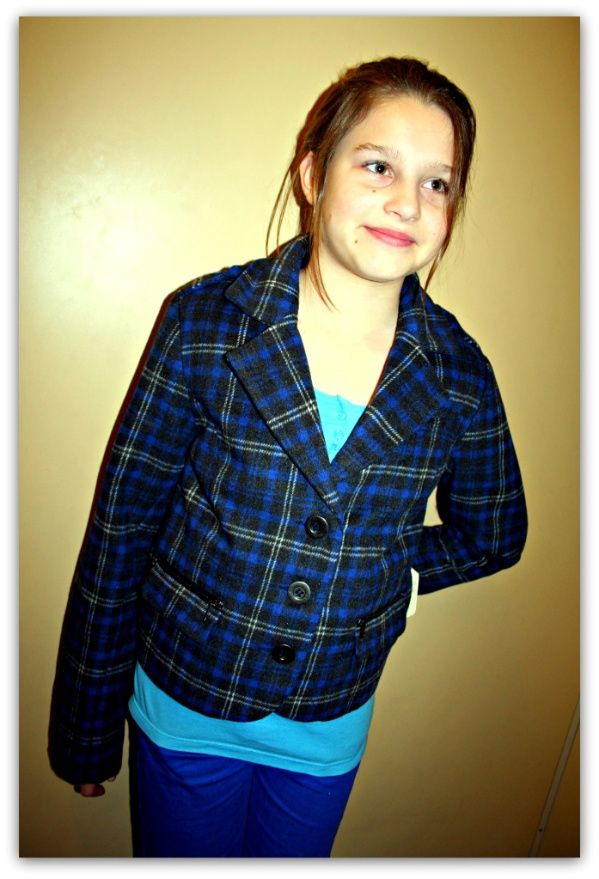 This little capelet; however, was another story.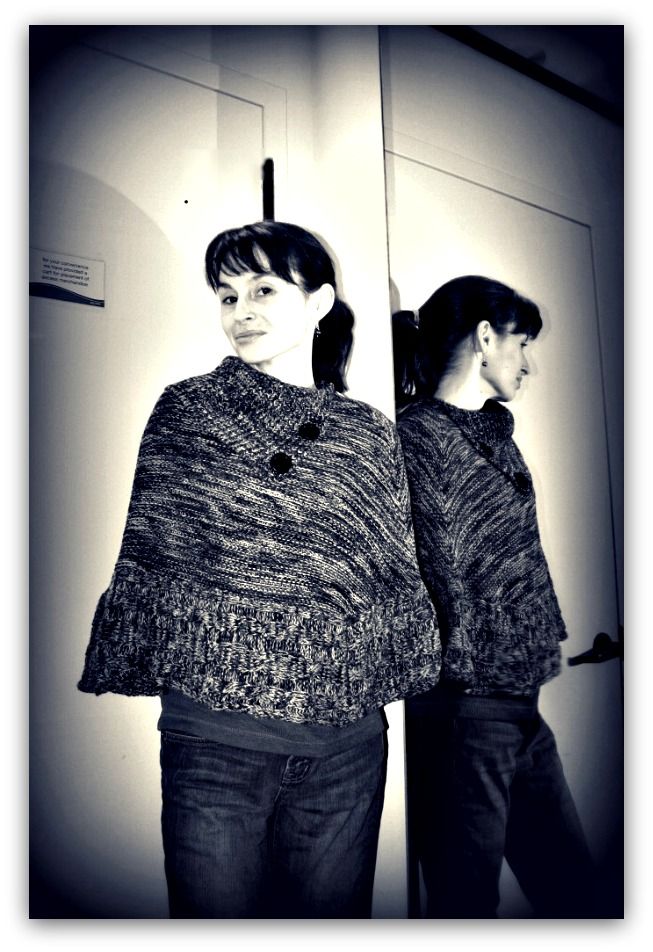 Once I saw it, I immediately liked it so much!  I've admired capelets for quite awhile, and this one seemed to have everything I wanted in a versatile capelet, right down to the cute buttons.  I tried to resist it – and Idelle tried hard to help me resist it!  I actually hid it in another section behind a bunch of different shirts. (Has anyone ever done that?  Come on, 'fess up!)   Idelle and I left the store (J C Penney) and started heading back through the mall, but I kept coming up with all these reasons why I should get it *blushes*.  It really was a good deal, marked down to $13 something from like $46.  So, much to Idelle's chagrin, we turned around and I purchased it.  It now hangs in my closet, and I'm sure you'll be seeing plenty of it here!
–just a candid by Idelle in the Forever 21 dressing room – for some reason she's just not as into the picture stuff as I am, and would get annoyed when I wanted her to wear something for a pic.  But, she did take some pics for me, and we did have a lot of fun, even though the whole trip began as a complete fiasco / wild goose chase, lol.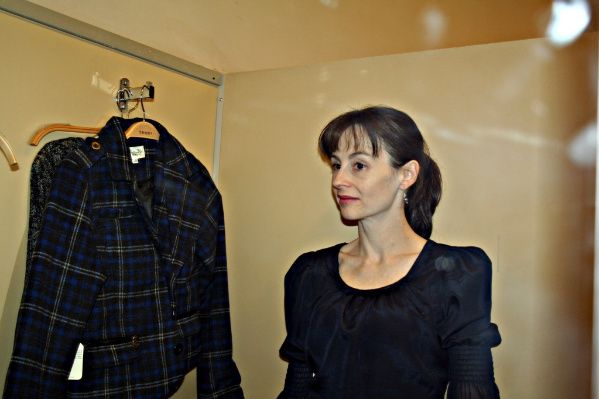 Now I just hope the hubby doesn't blow a gasket when he sees the bill, but I have plans on how to replenish the bank acct.. just gotta get on it.  I'm going to try selling some things on ebay, and I have some money coming soon from my cafepress shop.  I really didn't spend THAT much..practically nothing compared to what many other American women spend, and I don't ever do things like get my nails/hair done, (other than a VERY occasional haircut) so I'm actually pretty darn low maintenance..but things have been tight, so I do need to be careful.  I think my spending sprees are over for awhile. 
Idelle found some great deals on some Aeropostale shirts – apparently it's totally the middle school trend to wear these tees with this brand name splashed across them somewhere pretty much every day.  I'd NEVER pay full price for them, and neither would she, but these were in bins for $5 each. I even got a long sleeved thermal one for layering, as I'm always so cold these days. 
All in all, the trip started out with pure insanity, but ended up being a fun mother/daugher time.  I am so impressed with my Idelle – she has more control than I do when it comes to spending money, and she even used some of her money to buy her little sis Amelia a darling horse t-shirt at 'The Children's Place.'  I think I need to take lessons from this gal =-)
Well, it's late and I suppose I should get to bed.  I ended up getting a cozy, soft grey scarf, (as my ears and throat were hurting so much and it felt terrible to have them exposed to the cold wind) a pair of warm knit tights, an undershirt for layering, a pair of bright regular tights, (I'm on a tights kick) an Aero thermal top, and the capelet.  It'll be fun to share them here – I was feeling a bit low on inspiration.
I'd like to go back sometime and try on a bunch of outlandish stuff, stuff I would never actually buy, lol.  I'll probably need to secure the services of a more willing photographer, though!   Idelle is a blast, but she's just not into the whole picture taking thing like I am.   She's definitely developing her own strong sense of style though, but she's smart, realistic, not easily swayed, and has a soft and generous heart.  I'm so proud of her. Oh, and yes, I felt somewhat better once we entered the mall – funny how that happens!
Goodnight all!
Hugs,
Tracy