Mustard Yellow Tights, and a Marigold Flower to Match! and some goals, hopes, and dreams for 2012
January 4, 2012
My wonderful new blog friend, Toni, (at The Love Hanger) held a lovely giveaway recently, and I won! I won this darling marigold headband that she made; it is so pretty!   Thank you Toni!!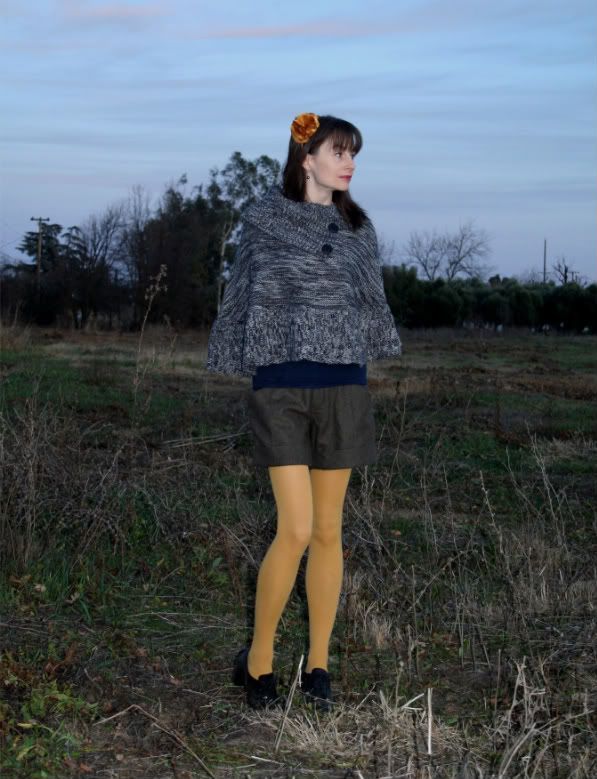 As you can see, I finally got some mustard yellow tights from Free People.  They go so well with my sweet new headpiece!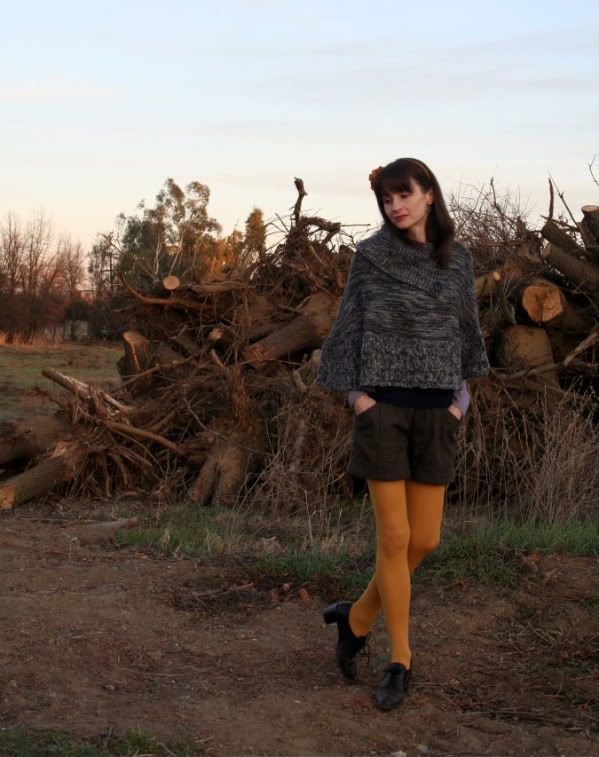 I tried for a close-up of the flower, but it got a little blurry..still  pretty though.  My friend here is my kitty Marcus; he likes to tag along when I go out into the field.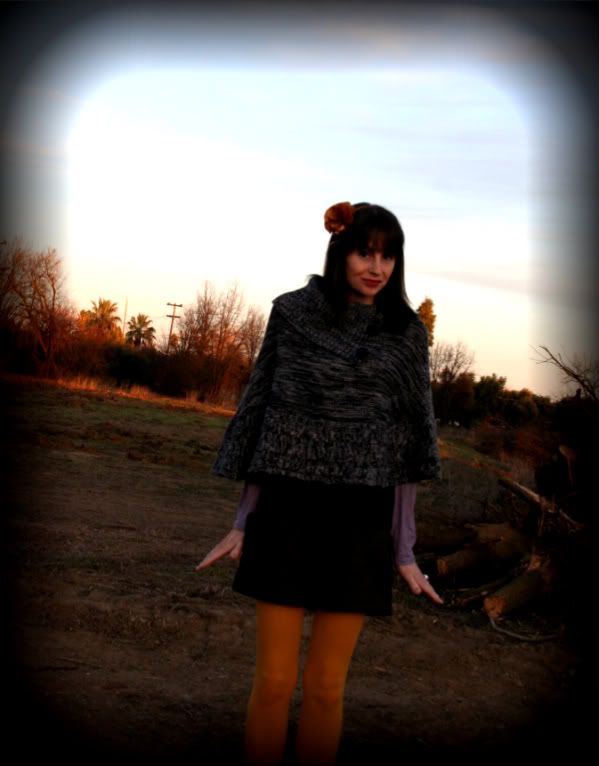 This new capelet is from J.C. Penney, and I just couldn't resist it.  It's SO my taste, and was marked down to $13 something from $46.  I left the store once, after hiding it, *smirk* but ended up going back to it pretty quickly, much to my daughter Idelle's dismay, lol.   (see my previous post for more on the story

)
The shorts came to today via eBay, but they are Anthropologie wool winter shorts (get a similar look here).  I just love cozy wool shorts like these, worn with tights (if you haven't yet noticed my shorts/tights obsession!)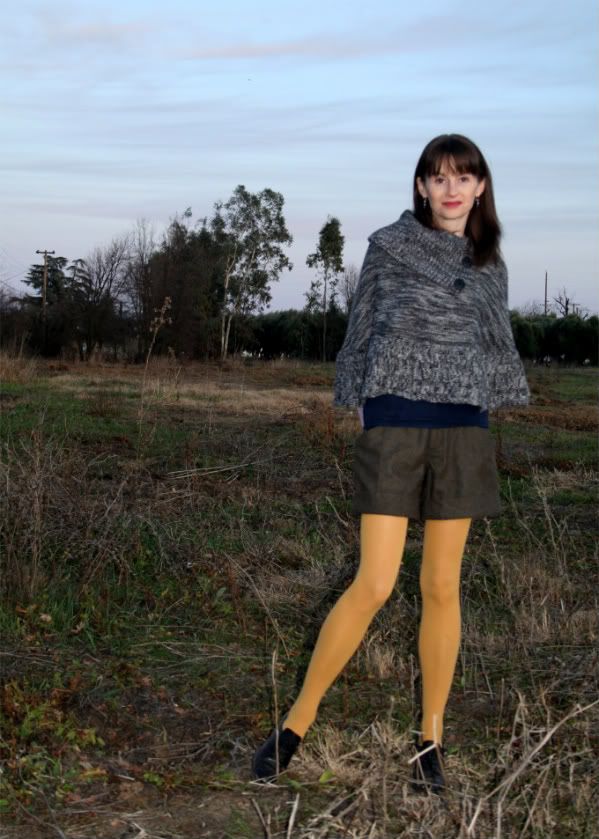 Okay, my beautiful blogging friend Sarah at Sophiasa put up a gorgeous and most inspiring post, and I just read it tonight.   I practically left a novel in her comments, so decided I'd share what I wrote here.  Her post was on her New Year's resolves for 2012.  I'm not nearly so good at list making, but I jotted down a few ideas myself, inspired by dear Sarah.  So, here they are:
*My goal for this year is to come closer to Jesus, to really know Him intimately like some people that I admire do. I watch Joni Eareckson Tada's shows on the Joni and Friends website sometimes and they are so inspiring. This woman can barely move her body, and yet the glow and peace she carries about with her make me envy her. I know I could have it too, if I would just go to Him..lots more than I do, and consistently seek Him with all of my heart.. I want to work on becoming spiritually healthier this year..and in all the years I have to come.
I also want to get physically healthy this year. Unfortunately, it looks like I'm going to have to have a hysterectomy, as my pain just won't stop and it's tearing my life apart. I want to be the mom I'd always hoped to be. I had hoped to have another baby, but if I can't, maybe I can pursue making adoption possible if I can become a really functional person again. At least I can help get the finanical situation under control, by working more, getting an outside job again, or going back to school so that I can get a better job.
As Sarah touched on, kids grow up so quickly. I find myself so bummed at how lacking I am in the dept. of being the kind of mom I want to be sometimes.  But, I have to get to feeling better, or learn how to manage pain better anyway, so that I can more easily resist the temptation to take out my frustrations on family members. I'm angry at myself for barking at the precious ones that God has entrusted me to keep and to parent here on this earth for a time; I want them to feel secure, cherished, and respected at all times.
Of course, all of these things are ultimately up to God, but His Word says that "He who seeks me (diligently) will find me."  So, I must become more proactive at seeking.  However, He's the One who does the drawing in the first place, and I'm blessed to be granted the opportunity to feel that draw.  I know that I royally screw things up time and again, but I'm so thankful that He's always so ready and willing to forgive me.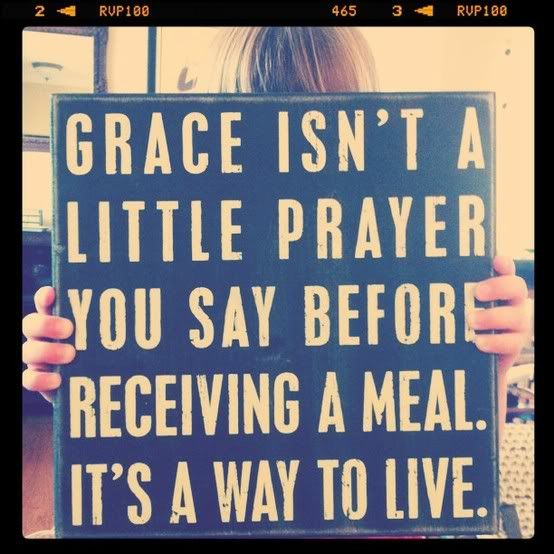 Thank you for the graphic and the inspiration Sarah - I love it.
Hugs and  Blessings,
Tracy
tank top undershirt:  Forever 21
long sleeved top:  I honestly can't remember!
capelet:  J.C. Penney
shorts:  Anthropologie via eBay (get the LOOK)
tights:  Free People
oxfords:  9 & Co. (thrifted)