Introducing my new ride! (UPDATED – I've learned a few things about wheelchairs and am asking for help)
March 30, 2012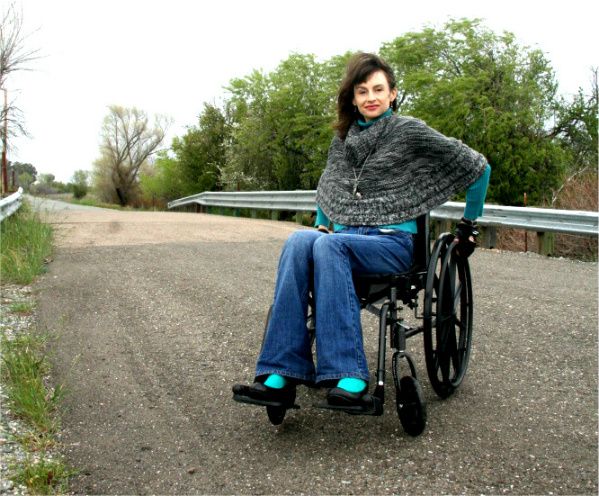 Thank you to my friends (Melanie and Esther) and family (Andrew and Jana) that decided I needed this, and forked out the dough to help me get it! I appreciate you guys SO much. Now, I won't have to let fatigue and worry about pain kicking in hold me back from going out on walks and excursions. I'll be in my comfy seat, and if I get too tired out, I'll make someone push me

I want to propel myself as much as possible, though. Maybe I'll finally get a little upper body strength – that's something I've always been very lacking in.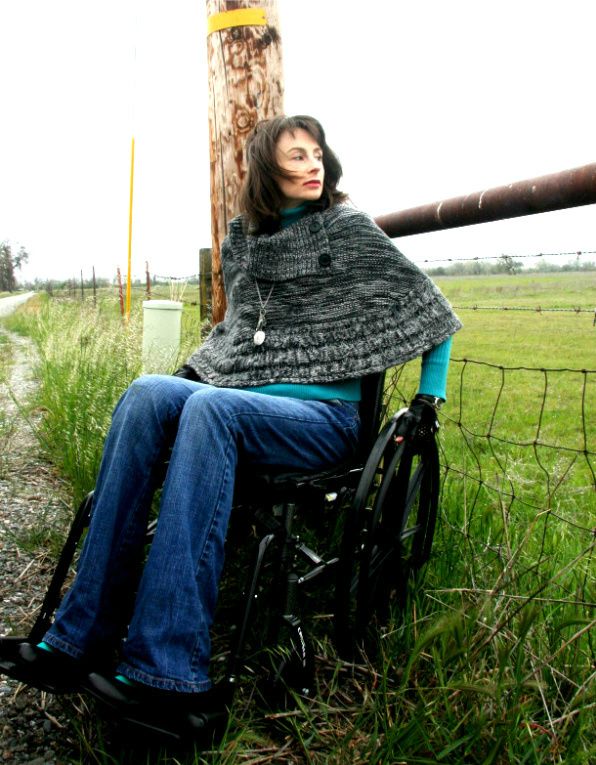 I know I may get some funny looks, (and I have to admit that makes me a little nervous) if passers-by learn that I am able to walk, that I'm not your traditional wheelchair user. But, the lyme and the chronic pain have been keeping me down, and I hated that I knew I shouldn't commit to any excursions that require a lot of walking, since I get so fatigued, and the pain gets so bad..when I overdo, I can be knocked out for days. Blah. So, I think that this gives me reason enough to use this as a helpful aid that will keep me from being holed up at home or waiting in the van all the time. It will let me get out for walks, (if I can manage Corning's terrible roads!) and let me participate in exploring during out of town excursions (my fave thing to do when I visit another city or town is to walk it, take in the feel, see what there is to see, etc.) I won't have to miss out now!
I purchased these jeans on ebay just recently; they have a longer inseam than I normally need, which keeps me from looking like I'm wearing "high waters" when I'm sitting. I find this capelet to be perfect to wear in and out of the chair (it's so 'me'). It allows me to move my arms freely while propelling myself along, and I just love the way it looks and feels. I got it at J.C. Penney awhile back – walked into the store not planning to purchase anything for myself, but when I saw this on the clearance rack, I just couldn't leave it there! I even put it back and left the store, but I tell ya, the capelet kept calling my name until I went back and got it. lol
The necklace is a Forever 21 find – love their accessories section! Sooooo many creative and cute items at good prices. This piece has a vintage look to it and I just love it.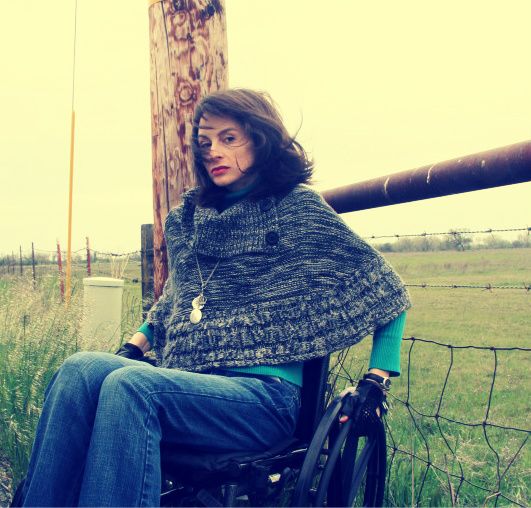 I went ahead and purchased some fingerless gloves to use while I'm in the chair, and I'm surprised at how much I love these! I wear them a lot, even when I'm not wheeling. They give me better grip when I'm pushing myself, and they're just so comfortable! The leather palms are super soft, and the mesh outside let's my skin breathe. One symptom of lyme is having the problem of keeping one's temperature normal..we tend to be cold a lot, and it's really hard to warm up (hands and feet seem to be hit the hardest.) So, these have the added feature of helping to keep my hands warm..I'm surprised at how much they help, even though they are fingerless. I love that I can still do things with them on; I even wear them while typing sometimes.
I like my new wheels a lot, but if I were a full time wheelchair user, I'd definitely be working toward getting something like the girls at the bottom of this post are sporting! I love how low profile they are, and how the footrest is placed right on the frame. When I was shopping, I was looking for something like these, but they are really expensive (the lowest I've seen is about $1,000.)
*UPDATE:   I continue to work toward getting well (I eat almost all raw and organic and juice a lot, and am on antibiotics to fight lyme.) But, while I'm still in need of some aid, I have a personal goal to try and raise the $500 needed to purchase one of these low profile, light-weight models. They weigh less, and the wheels detach; this would make the chair much easier to pull into my vehicle next to me. (the one I have, though I'm very grateful for it, is much too bulky and heavy to allow me to do this easily.) I just want to do my best to keep this illness from holding me back as best I can, and I want a chair with excellent maneuverability (ie: pneumatic tires and a light weight.) My legs are being affected more and more it seems lately, so I think it would be a good investment. 
I think this one meets my needs well: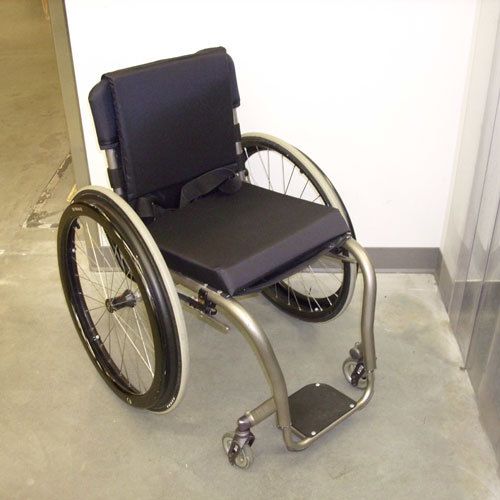 It is lightweight, low profile, looks very comfortable, and the wheels detach.  It's also about $2,000 less than the these chairs (Ti-lite brand) are when purchased elsewhere (this is from a seller on ebay that sells demo models.)  I want to remain as independent as possible, and with one like this, I could probably get it out easily and set it up on my own without too much trouble and without hurting myself (my lower spine is becoming increasingly more irritated.)   It's faster, (so I can keep up more easily with less effort) and it's cooler looking (so maybe *some* particular munchkins won't feel as embarrassed about being seen with me in it :P. )   So, I'm going to have to get creative to raise that money!   (I would donate my current chair to a cause like Wheels for the World or UCP, Wheels for Humanity if I am able to raise the money.)
If anyone wishes to donate toward the cause of getting me this chair, so that I can keep up with Idelle, Doran, and Amelia better, I'd be grateful a kazillion times over!  I hope it doesn't seem too forward of me to ask, but I figure, it doesn't hurt to ask – you just never know.  I am also planning to work on projects of my own in an attempt to raise money.   I tried to post a paypal donate button here, but it doesn't appear to be allowed.  So, my name is Tracy Walters and you can check my 'About Me' section for my paypal email.  If anything sent through paypal is marked as a 'gift,' then the fees are not taken out, as I understand.  Oh!  I just found that I could post the paypal link on my blogger blog!  So, here's the link:  http://shopwardrobewanderer.blogspot.com/2012/04/if-youd-like-to-donate-toward-more.html
Don't these ladies look great?  I came across this while searching for wheelchair stuff, and found out about this new reality show that will be airing on the Sundance channel, starting this summer, I believe. Here's the link to an article about the show.
http://www.sundancechannel.com/push-girls/
I think it's wonderful that these women will be able to show the world what it's really like to have this type of disability. I also think it's really great to show people with a disability that are really happy with their lives and that are doing cool things.. too often disabled people are portrayed as invalids to be pitied. There are plenty of disabled people that are happy, on the move, and in no need of any sort of pity. They can be super stylin' too
Hope everyone is having a fantastic Friday!
xo
Tracy