The Whirlwind RoughRider – Incredible Wheelchair and Amazing Non-Profit Company (deja-vu?)….
April 16, 2012
I know, I raved about these chairs in my last post, but I talked to a representative since then, and now know more about the company.
Throughout my search for a perfect wheelchair, I came across a company that does phenomenal work. After just beginning to use a wheelchair myself, I appreciate the thoughtful and careful design of Whirlwind's Rough Rider wheelchairs  SO much.
I would like everyone to take a look at the sort of freedom these chairs (I call them works of art) are able to offer to individuals that cannot use their legs to get around, or to get around as well as they'd like to. This video shows the RoughRider carrying individuals over terrain I never thought possible with a manual wheelchair! Also, after encountering ruts and small curbs in concrete myself while in a chair, (with jolting and painful consequences) I appreciate these on a very personal level. Just watch this video!

and this one – it compares the RoughRider to a standard manual:

Isn't it amazing how such a carefully designed version of an old standby can rejuvenate someone's life? I am offering a donation link with the intent of transferring it to the Whirlwind organization when I reach the goal of $800. That $800 would not only give me a RoughRider chair, which would allow me to resume activities I usually now have to miss out on, it would also give the gift of one of these amazing chairs to someone in a developing country who is in extreme need. Having one of these would bring a lot more fun back into my life, (which is really important as a mom who is trying to keep up with young ones!) and could offer a complete new lease on life to someone in dire need outside of the U.S. I made a banner, but still cannot figure out how to post the direct link to paypal on it here, so I made a separate post on my blogger blog, The Wardrobe Wanderer's Musings & Miscellany, where I was able to add a donation link (via paypal).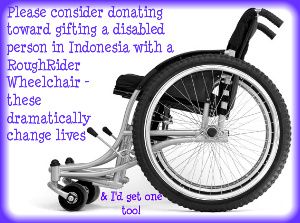 These can come in the color of your choice as well, and the swooping design and longer wheelbase truly makes the chair very safe and functional, very stylish too..I think it looks artistic! I am so taken with the front casters, which are MUCH wider than standard, and are made of a flexible material. After having my narrow, rock hard casters run into things full bore, I find the Rough Rider casters' functionality to be just astounding! I am also in love with the fact that they use mountain bike tires – these really can go where no wheelchair has gone before.
Thanks for listening! I'll be back to sitting pretty and fashion-y posts soon, but I actually think that this chair is fashionable itself, don't you?