It's been awhile! I'm wiggin' out and rollin' along! *small UPDATE*
July 25, 2012
I'm still around. I have been in such a struggle with Lyme disease, but have FINALLY been directed to a good Lyme specialist and a kind nurse practitioner (by an incredibly kind angel of a friend that I met through a NorCal Lyme Support group.)  Shout out to Teresa - thank you SO much for taking me under your wing and giving me some direction to take..I was so baffled, scared, and lost!  Your kindness to me will always be cherished!   Teresa went to my first appt. with my doctor with me..she drove all the way from Sacramento just to be there.  It's hard to find someone willing to go out of their way for someone they don't even know like that.  My heart was, and always will be, deeply touched.
Both of these wonderful medical professionals are doing their best to help me out and get me well – I'm very grateful for them.  It's a long, slow process though.  It seems  I may be battling this in some shape or form for the rest of my life. (sigh) My new friend, however, has lyme herself, and seeing how well she is doing gives me a lot of hope.  You rock Teresa!
I am using a wheelchair a lot, when I can — it doesn't work very well around my house because this house is very small, has narrow passageways, and just wasn't built to be accessible in any way.  If only I could have seen into the future when my husband and I bought it way back then!  I would DEFINITELY have held out for something much more open, and with as much square footage as possible.  It does cause pain for me to walk too much, but I HAVE to walk around my house most of the time, boo. The chair mostly helps if I want to go along on a walk, or go into a store and shop/browse around – it totally rocks for cruising around stores.  It's really an amazingly great little chair; I'd just be able to use it more if I lived in a more accessible place, like a city. =) It can be a little rough on going for walks, unless we walk in a very smooth area, and those are few and far between around here in this rural, tiny town (jolts hurt me too.)   Since getting it, all through the generosity of dear friends and family (thank you all SO much!) I was able to donate the previous chair I'd gotten to UCP Wheels for Humanity.  They do wonderful work in refurbishing wheelchairs and giving them out in developing countries.  I'm hoping that that chair will be a perfect fit for somebody; it just didn't work for someone who was trying to use it actively, like I was.  Mobility is SO important – some people in other countries are dragging their bodies along through the dirt, using only their arms, or completely depending on family members to carry them, in order to get anywhere.  This should not be the case for ANYONE!   Everyone deserves to have mobility and human dignity.
I'm hoping to eventually get a Whirlwind RoughRider Wheelchair, so that I can navigate the rough roads around here without hurting myself, and so that I can actually go off road and "hike" when I want to (and I will be wanting to when the weather cools off!) You know me and wandering! *wink*  I like that when I do come up with the money to buy one, I will also be buying one for a person in need of mobility in Indonesia.  This company rocks!  If you feel inclined to donate toward my personal goal of getting one for myself and to sponsor someone with one, (I need to come up with $800, which is pretty difficult to do since I haven't been able to work and there are so many dr. bills) I'd be most grateful (there's a link to my other blog, which contains my paypal donate link, to the right on my sidebar.)  You can also donate to the Whirlwind cause in general on their website.  If not, no worries, I'm just glad you stopped in. *smile*
My son, Doran, had his 10th birthday on the 14th, and after a party at the local city pool park, a bunch of us went to the skate park in a nearby town. I was tired out and thought I'd just lay on a blanket and watch the whole time, but once I got there and started rolling around, I realized that it was a really fun place to play in a wheelchair! lol So, I somehow got a second wind and had a blast rolling down the not as steep slopes. (I'm no daredevil, and I didn't have a helmet, which I totally recommend!) I will get a helmet for next time..we have to go back; it was so much fun for us there!
Anyway, a few pictures from the park – taken by my sweet sister.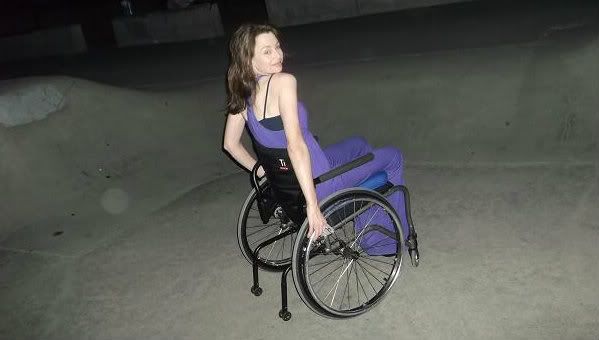 taking off – oh, so much fun!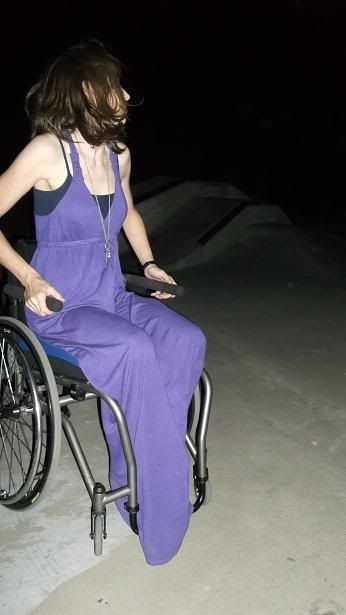 woo HOO!!!!!!!!!!!!!!!!!!!!!!!!!!!!!!!!!!!!!!!!!!!!!!!!!!!!!!!!!!!!!!!!!!!!!!!!!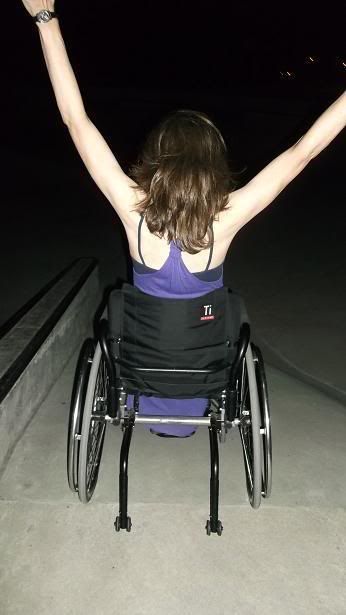 I even used a pic taken there to make a new banner for my other blog: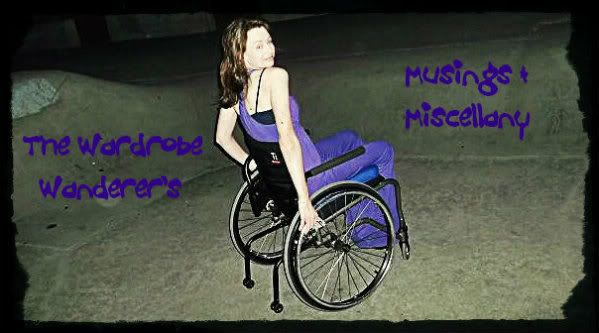 Okay, here's the wiggin' part, lol.  I've gotten into wearing wigs a lot lately, inspired in part by my friend Bekah, who LOVES wigs and wears them almost all the time.  This is a shot with my sweet daughter, Amelia.  I'm wearing my 1oo% human hair wedged bob with bangs – I really like this style.  I'd been toying with cutting my hair this way, but didn't want to deal with the constant upkeep I knew it would take to keep it sharp.  I'd have to go into a salon every month or so to keep it this way, and I do not want to do that, nor can I afford to.  I finally realized that a wig is the perfect solution!   I can have the look whenever I want, and my wig never grows out!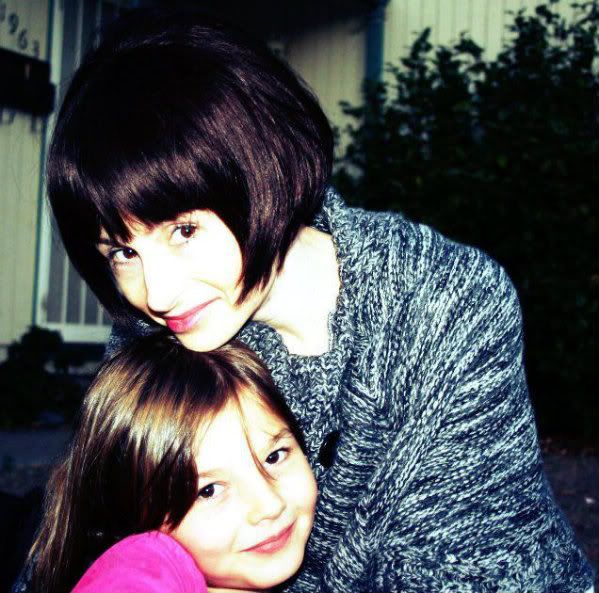 Here's another from my growing collection, although I don't normally wear it quite like this, haha.  My mom, sis, and I were goofing around with the camera the other night and I stuck this short one on, spiked it up as much as I could, and put on a bunch of dark lipstick.  I call this my "deep thinker" pose..lol..do you think I look a little like Robert Smith? (from The Cure?)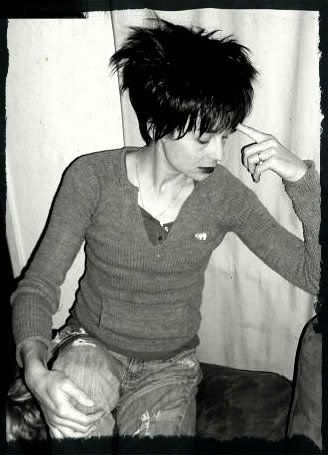 The girl on the left here is my friend Bekah, the one who has helped to get me into wigs.  I had brought the one she's wearing over that night; I wasn't really into the exaggerated color, but she liked it.  So, she traded me a long, curly blonde wig for it that my daughter Amelia loves.  She wears it to play princess. =)  Oh, and check out my tee – it features one of my hand drawn bandit girl designs!  I'm also wearing a sweet Eiffel tower necklace that Idelle bought for me while we were at a mall recently.  It's probably the closest I'll ever get to being in Paris in this lifetime, but I can always hope.  I love it!
..and a self portrait, using the good old fashioned timer….haven't been doing much of this lately and miss it.  This was taken while at the park for my son's birthday; I saw an opportunity, set the timer and put the camera on the bench of a picnic table, then lounged in front of it.  I'm wearing yet another wig here, and the purple maxi dress is so comfy!  I got it at Ross for a good deal; I had been wanting a maxi dress, love this one.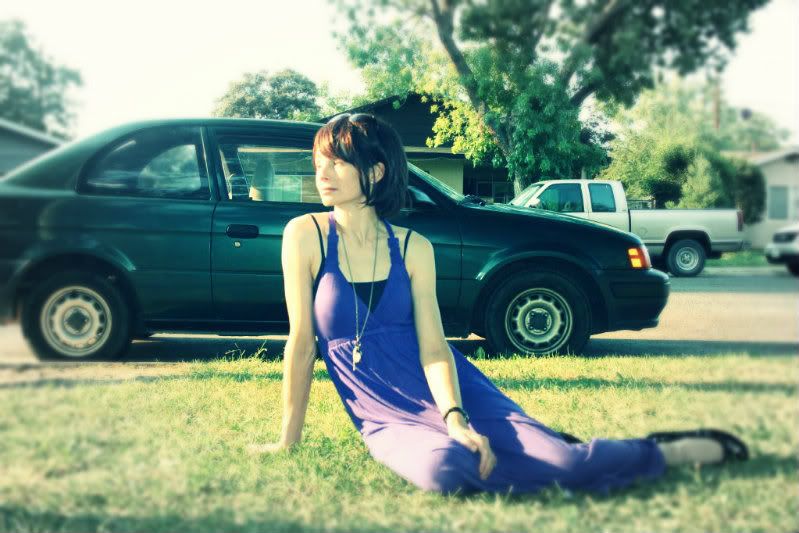 I'm chugging along, doing what the doc says and trying my best.   Shenanigans (I may explain later) have been a big part of my entertainment this summer….they generally happen in the wee hours of the morning, ha.  Sound mysterious?  It is, oh, believe me, it is *wink wink*
Shenans may or may not contain things like:
this: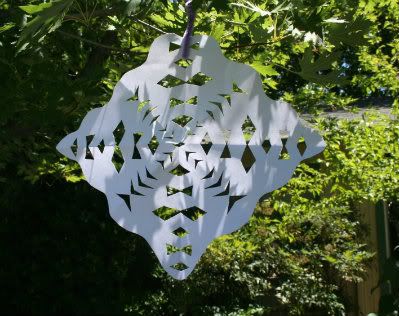 and/or this: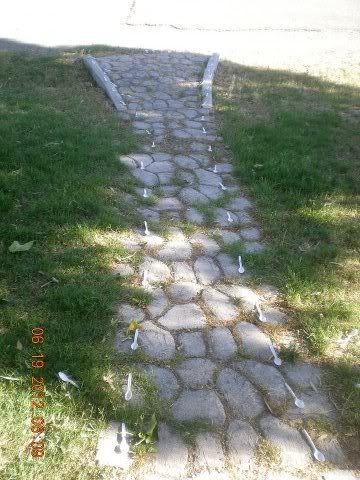 but I know nothing….
(teehee)
I hope it won't be so long before I post again.  I know that Fall tends to be a more artistically inspiring time for me, so hopefully I'll be feeling a bit better then too, and may be able to get back into it a bit more.  Miss the blogging community!
xo
Tracy