Rooski Boutique! New Local Boutique Adds Style to Corning – Check out this little Parisian Chic number I purchased :)
September 12, 2012
Hello there! I am back and hope to be posting more regularly again – Fall is around the corner (although it's still getting really hot where I live here in NorCal *sigh.) I felt a bit of the Fall atmosphere the other night when out for a walk (or roll, in my case ;)) It gave me that familiar feeling of excitement that I tend to get when Fall sets in with its brisker temperatures and cool breezes that send swirling little torrents of crackling fallen leaves scooting down the sidewalks. Ahhhhhhhhhhhhhhhhhhhhhh, I just can't wait! The lovely atmosphere after the looooooooooooooooooong HOT summer has a lovely tendency to inspire me creatively, and I feel a renewed and refreshed desire to work on creative projects.
I have also been quite sick with the Lyme disease I've mentioned to you all. It seems to cause a lot of pain, and, as I've shared before, walking for any distance, (even a small one) has shown in the past to really exacerbate that pain. So, as a pain management tool, I'm still using my wheelchair whenever I need (or want) to walk around anywhere. It works great, at least inside and on smooth concrete surfaces, and I'm able to go along on walks and shopping trips. I'm so very thankful for it! I was able to get it through the donations of kind friends and family members, and it has allowed me to have so much freedom that I'd otherwise have missed out on. Thank you again to everyone that helped me!  You all are WONDERFUL!
Okay, on to the outfit! lol
I am wearing a wonderfully cute and comfortable slip on dress that I purchased at a new boutique here in town. It is called the Rooski Boutique, and I just love it!  This town REALLY needed a classy, stylish clothing and accessory boutique, and now it has one; I'm so glad and am already such a fan! It is decorated so creatively inside with many great, handmade pieces – it is SUPER inspiring to me. It makes me want to re-vamp my house and add some creative, handmade touches here, just like the owner at Rooski has done with her store. My recent shopping experience at Rooski was fabulous – I didn't want to leave; the atmosphere is so inviting.  I loved the music that was being played, the girl working there was so helpful and friendly, and just being allowed to go into the darling dressing room felt like a treat; I almost felt as though I were being pampered.
What really got me going was the fact that when I walked in, I was immediately welcomed with the fact that everything in the store was half off! The prices aren't bad to begin with, so this got me really excited!
I like to wear the dress with capri length leggings, as shown in my pictures. The dress material is so soft and light; it feels like a second skin. You really couldn't find a more comfortable outfit. In this shot, I'm wearing it with my Corso Como ballet flats, (also wonderfully comfortable) and a wig from my growing wig collection! I have come to really like wigs; they allow me to try so many different looks with ease. I can have shorter hair in seconds without having to commit to it, and I can try out any look that intrigues me. This one is my current fave – it is very comfortable and I like the style so much. It has a hint of curliness along the bottom back that adds a little touch of pizzaz; it makes me feel stylish! I think it goes well with this dress, which strikes me as having a bit of Parisian flair with its black and white stripes.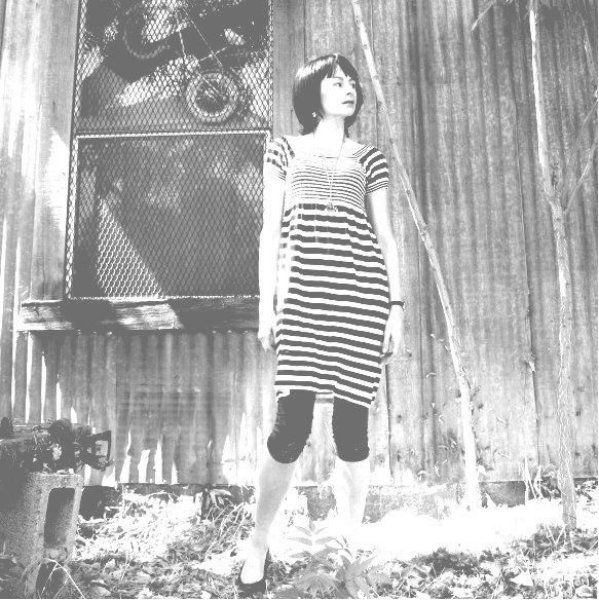 Now I'm wearing it with my own hair flowing, along with a super cute pair of sunglasses that I also bought at the boutique.  It seems that all my sunglasses have been breaking so quickly on me lately, so I was thrilled to pick these up from Rooski – they are of good quality, and I only spent $4 for them!  (and yes, I did wear this outfit two days in a row, lol; it's one of those 'go to' outfits that you want to wear all the time, as it's just SO comfortable, yet stylish too!)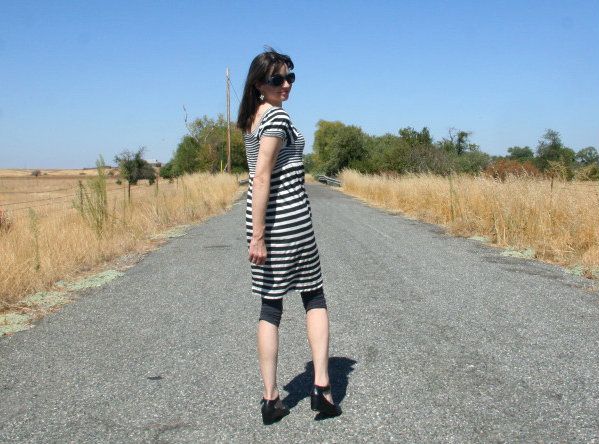 I'm wearing my little ankle strapped wedges from Wanted Shoes here.  The shoes are so my style – just a little bit of height, but not so much that I can't walk in them, and I love the look of an ankle strap.  I ended up selling off most of my high heels, as I found that I never felt strong enough to attempt walking in them, but these I can handle.  I've also found that I sit better in my wheelchair when I have heels on.
This is a great outfit to wheel in as well.  I am perfectly well covered, and feel completely free to wheel just as fast as my little arms can carry me! :D  I'm finally getting some good arm workouts in – my arms never used to get much work before this; I think they're actually starting to get a little toned.  Cool!
This and the shot after it were taken by my son, Doran, while I was playing at the school after dark.  It was a lot of fun!
tried a couple of photo effects here – they're fun to play around with
I took this one in an attempt to show off my new earrings from Rooski.  They are so pretty; they're fleur-de-lis designs with beautiful detailing on them.  They are really striking and are the reason why I went into the boutique that day….I'd seen these there before, but hadn't had the money right then to buy them.  What a lucky girl I was to walk in on a half price sale, so of course I ended up leaving with much more than just the earrings. *wink* =P  I'll try to get a better pic of these later, as they really are so cool looking.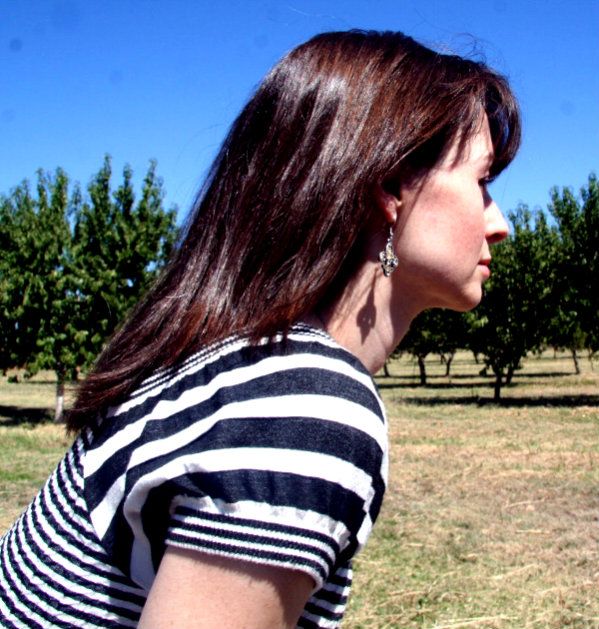 This is a necklace I already had, but I decided that I had to wear my little Eiffel Tower with my Parisian dress!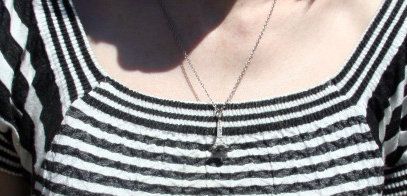 SO, if you're local, I highly recommend checking out the Rooski Boutique.  It's right on Solano Street and still has its 'Grand Opening' sign up.  It's a fabulous addition to my hometown – it's delightful and tasteful, and everyone I've met there has been so nice.  This little town has long been in need of places to buy clothing, and now there are a few, but Rooski offers the nicest shopping experience by far.  The prices are great too, esp. if you happen upon a half price sale!  I got some adorable little accessories for my daughter, Amelia's, upcoming birthday.  I know she'll love them.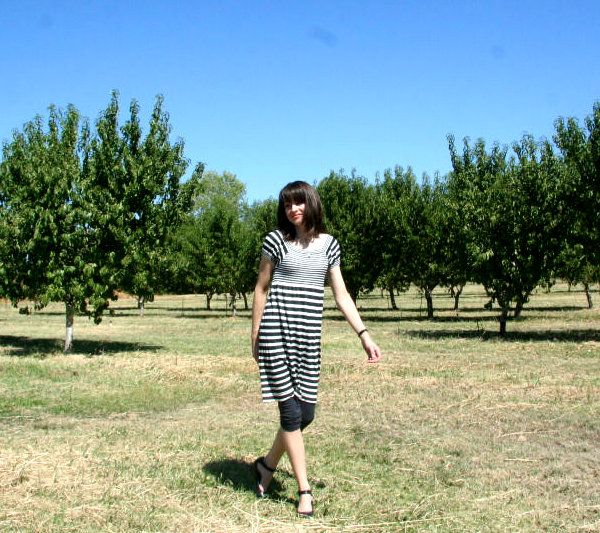 It's great to be back!  It's still a bit too hot for my liking during the afternoons, but I know that Fall is really getting close; when the weather does totally change, then I'll really want to get out there to take pictures!
How is everyone out there in blogland?  I'm feeling hopeful about my situation and feel like God is beginning to answer my prayers.  I'm trying to take it easy, but love being able to get back into the swing of things a bit.   I hope to hear from all my blog buddies, and maybe meet some new bloggy friends! =)  If you leave me a comment, I'll be sure to visit your page and return the favor.  I love getting comments and finding friendships through this creative little venue.
I will leave you with a very cute little Parisian Chic model, my daughter, Idelle.  (This was taken a few years back, when I was just getting started with taking fun outfit shots and posting them. I could never get her to wear an outfit like this now, wah!)

xo!
Tracy
(my outfit)
dress:  JJ Authentic from Rooski Boutique
sunglasses:  'Audrey' from Rooski!
ballet flats: Corso Como
earrings: Rooski boutique
strapped wedges:  Wanted Shoes
wig: eBay
capri leggings:  Forever 21
Eiffel Tower necklace: Forever 21