A dress that brings out my inner ballerina
October 4, 2012
As some of you know, I've been going through a difficult time for a very long time. I've had pain that has me screaming at the top of my lungs and moaning relentlessly; it is just that bad. I'm very surprised that the cops haven't been called over here many a time.
Anyway, my sweet mom has been incredibly supportive and helpful throughout this season of horrendous physical pain. She cares even when I have to tell her I just can't visit right then. When I'm going through something like this, I guess I do better when it's mostly just me and God. I come home after taking kids to school and crash, as sleeping is the easiest way to get through a period of insane pain. When I can do that, it's a blessing. So, this is a lot of the reason why I haven't been great about posting. I still enjoy going out, searching out a fun locale, dressing up, and cavorting around in front of my camera, lol..I just don't feel much like it very often these days. I have high hopes that this period will pass soon though, and if I feel that God is giving me peace about "playing" in this way, I know that I'll want to go out more often. Today I feel a bit of Fall in the air, FINALLY! This has an immense capacity to lift my mood.
When I feel ok, Fall tends to bring out my creative side. So, I'm hoping it will be an aid to my recovery.
Anyway, I went out last week and played wannabe ballerina again – I had a brief time of feeling up to it, and my dear mom had brought me this pretty dress as a pick me up. I'd tried it on before at a friend's photoshoot, and really wanted to purchase it for my daughter Idelle and myself. My mom, sweet "Marmee" that she is, kept looking for the store where it was kept to be open, and when she finally found it open, she went in and nabbed it. Thank you Mom!!!!!!!!!!!!!!!!!!!!!!!!!!
So, here I am, in all my poser ballerina glory *wink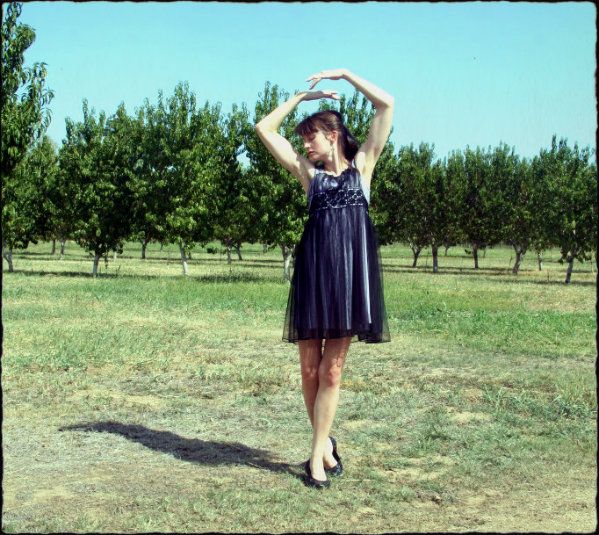 I've always liked the idea of being the quirky French girl, lol, so here's a shot at 'quirky,' and this effect is called 'Camille.' My maiden name is French, so I know there's some French in there, mixed in with plenty of other nationalities. I guess you could call me a "mutt" lol!
oops, I see that I didn't get the lovely, wide straps spread out in sync, but I did a hurried change in my van, so I guess that accounts for that, lol (will be more careful next time!)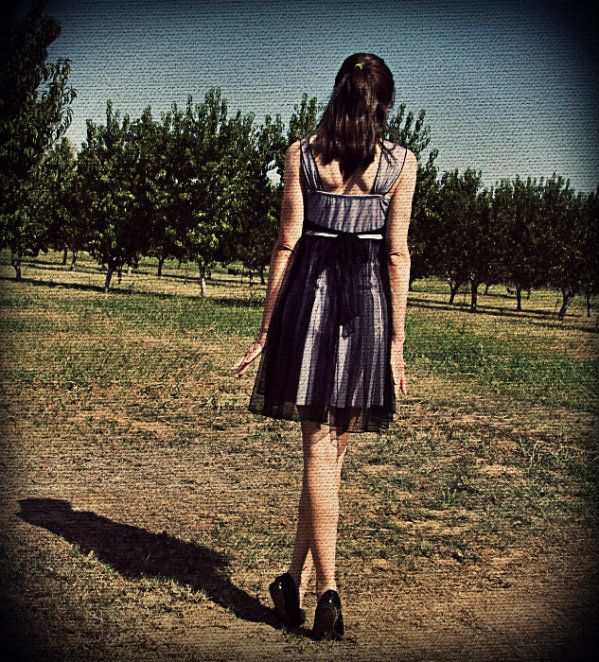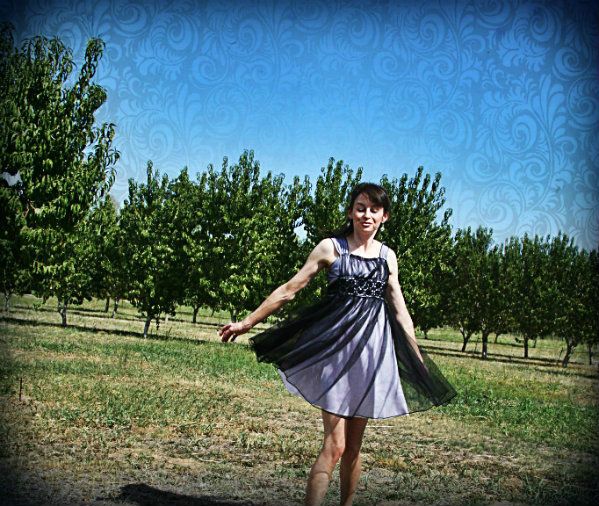 This elegant little number came from DevineStyle Aurora in Corning. I think it has a touch of the ballerina, as well as a touch of French chic. I can picture Audrey Hepburn in it, and it fits both Idelle and I just perfectly, so she'll be able to wear to a school dance or two (although she plans to rock it with her Converse =D )  I am wearing it here with my Corso Como ballet flats – they've become the staple shoe that I'm always looking for.  I love the cloth lining, (which makes less need for socks or tights) and the flexibility of them.
Hugs to all and here's to looking forward to a healing and happy Fall!
xx
Tracy